In addition to picking up a new customer base, you may be wondering if you will reap any other benefits from advertising in Russian Town magazine.
The answer is Yes!
As an additional incentive, we have developed a system of bonuses for clients signing the contract for at least six editions.
On our website at www.russiantown.com  we have a Business Directory where our currentadvertisers are listed. People search through these businesses for certain types of services that they need. When a person clicks a company name, they can view an exact copy of the advertisement placed in the magazine along with the company's contact information, including email and links to the company website. This is the most popular portal, as it reaches over 60,000 Russian-speaking Atlanta consumers. You are able to place your business in Russian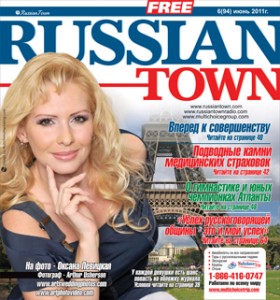 Town while also receiving additional services. Keep reading.
Russian newspaper and magazines in Atlanta and Georgia are important for the growth of the people that these publications are designed for. Therefore, we are also offering a broadcasting bonus to our clients who sign a contract for 6 months or more! That's six months of exciting media that the Russian-speaking community in Atlanta is ready to hear.
In an effort to bring your business to the forefront while expanding Russian media in Georgia, we will run a 30-second radio commercial on our RussianTown Radio that will air 6 times a day. Your business will receive 180 runs per month and 1,080 runs for six months. Russian media in Atlanta is needed, and so is your business. Therefore, we will also place your ad on our Facebook page that currently (April, 2012) reaches around 1,700 friends and is growing daily. We also have an iPhone app where we post your advertisement.
All these bonuses are applicable for the clients who sign contracts for six months or longer. This gives thousands of people instant access to your business and your content and allows you to reach more of our Russian-speaking communities in Atlanta and Georgia.
We not only offer Russian advertising in Atlanta through our printed publication, but in several forms of additional elements which are free to consumers. You only pay for placing your advertisement in RussianTown Magazine and we provide all the above mentioned services. In other words, we make your advertising dollars work in multiple ways, at a very reasonable rate.
How can we offer all of this to you?
We do it through smart marketing to a community that is largely untouched. You need to reach out and touch them. All of our media platforms belong to our company and we use them to promote our magazine as well as your business.
We want your business to succeed. Your success = our success. Let's succeed together. Contact RussianTown today to find out how to get started!